Joey's Staff Member of the Month
By Scott Lackenby | Dated April 9, 2015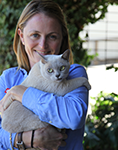 Helloooo!! How are you all? Did you have a good Easter? Hopefully the Easter Bunny found you. It was a busy Easter weekend here at GVH. There were lots of cat boarders in the cattery to keep me busy and we also had a dog who ate chocolate. Apparently he didn't read my warning about how dangerous chocolate is! Speaking of the cattery, I still have a few places for the remainder of the school holidays, so if you are going away and need someone to look after your pussy cat, I'd be more than happy to entertain them. Just give the Nurses a call to book them in.
So my Staff Member this month is someone who has had THREE jobs here with us. She has worked as a Vet Nurse, as a Vet and is now our Practice Manager. While you may not of seen her in person, but you will have seen her arms in most of the pics in my Pet of the Week as she regularly gets the job of holding my star patient. That's right, I'm talking about Dr Angela Hill! Dr Ange originally started with us back in 1995 as a weekend Vet Nurse/Kennel Hand. After graduating from Sydney Uni in 1997, (Dr Ange and Dr Helen Burns actually graduated together!), Dr Ange worked as a Vet with us on Saturdays. Dr Ange has also worked for a Vet in Randwick, and like most Vets, also spent some time working in England. Dr Ange then started working as a Vet for Novartis, a pharmaceutical company, and then as a Vet for Hills Pet Nutrition. Working for these companies made Dr Ange realise that while she enjoys being a Vet, she also enjoys the administration side of things, so being our Practice Manager means she gets to spend her days around animals while working in an administrative role, a perfect balance! Aside from getting to work with the best clinic cat a Pymble Vet could ever hope for, Dr Ange loves hearing the positive feedback from clients about the great service they have received from our amazing GVH team,
Dr Ange pretty much knew she was going to be a Vet from a young age. She had a tan Dachshund called Gonzo who she treated like he was her little brother, so it seemed inevitable that she would end up working with animals. Dr Ange's first pet was a rescue cat called Tuppy, who was a black and white kitty like me. Dr Ange had Tuppy from when she was born until she was 13years old. Tuppy wasn't the ideal cat for a child who wanted a snuggly kitty, he was a little aggressive! Luckily that didn't turn Dr Ange off cats! She is now the proud owner of Ida, a simply divine 8year old Lilac Burmese and Ernie, a cheeky 1year old Wire Haired Jack Russell. Ida is everything you could ever want from a cat, she is smoochy and snuggly and extremely tolerant of the kids who regularly dress her up and put her in the pram! And if you needed proof that she is an amazing cat, Ida has won best in show at the Sydney Royal Easter Show! Ernie is everything you expect from a young Jack Russell! He is spirited and active and loves nothing better than running and playing with the kids. Keep your eye out for profiles of Ida and Ernie in upcoming Breed of the Months.
So keep your eye out for Dr Ange next time you are in. Or see if you can spot her arms in some of my pics! Well, better go. I need to make the most of this sunshine after all the horrible wet weather we have been having. Enjoy the rest of your week and I'll catch you all next week. Meows for now, love Joey xoxo