Complete Veterinary Care for Greyhounds and Sighthounds
Why Gordon Vet Hospital is Greyt for Greyhounds and Sighthounds:
Veterinarian, Dr. Tahlia Mitchel is a greyhound owner herself and has extensive experience with greyhounds and whippets.
We understand and cater to the unique medical and behavioural needs of greyhounds and sighthounds.
We minimise handling and environmental stress in order to keep sensitive greyhounds and sighthounds calm.
We are experienced in providing safe anaesthesia to greyhounds and sighthounds.
Most owners of greyhounds and other sighthounds understand that while they are generally low maintenance, they do have some interesting quirks. Did you know that their quirks also extend into the veterinary medical world and they have special requirements when it comes to anaesthetics, blood test interpretation and can be prone to certain diseases not often seen in other breeds?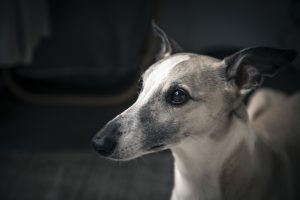 Our veterinarian, Dr. Tahlia Mitchell, has had extensive experience with racing and ex-racing greyhounds and has built close relationships with breeders of whippets and Italian greyhounds. In this time, she has had experience treating many breed related conditions including pannus, corns, and ulcerative stomatitis. Other common problems that occur in sighthounds include gastrointestinal upsets, lameness, tail injuries, dental disease and lacerations due to their thin and fragile skin.
From time to time, your greyhound may require a general anaesthetic, whether for desexing, dental care or suturing wounds. We understand that this can be a stressful time for owners but you can rest assured knowing that our team is experienced in anaesthetics for a range of dolichocephalic (literally long skulled) breeds and we focus on well researched safe anaesthetic drug combinations with smooth recoveries.
As a greyhound owner herself, Tahlia has a love for sighthound and is passionate about making sure they get the special care they deserve. She is happy to discuss with you the day-to day care of your sighthound, including diet, exercise, grooming and dental care.
The staff here at Gordon Veterinary Hospital are dedicated to make sure your pet's visit is as stress free as possible. For our sighthound patients, this means a quiet, gentle approach with plenty of ear and neck massages and bribery with liver treats. To book in to see Dr Tahlia Mitchell call 94983000 or BOOK ONLINE.