Our Veterinary Staff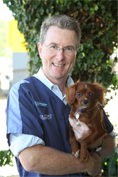 Dr DAVID LONERAGAN BVSc, MANZCVS (Feline Medicine), AQIS-accred
Veterinarian, Partner
David grew up and still lives locally and has worked at Gordon Vet since 1985. His love of animals and interest in all things veterinary started when he was a young boy spending time with his own pets and working on a country farm.
David's post-graduate studies have been in the fields of medical problems of dogs and cats and diagnostic ultrasound and radiology. In addition, he is interested in dermatology, cardiology and ophthalmology.
The growth and development of Gordon Vet Hospital from a two vet practice in the 1980's to the large, well-equipped facility that is among the top veterinary hospitals in NSW has given David much satisfaction. He is very proud of all the wonderful staff that give Gordon Vet its long held reputation for outstanding customer service.
David enjoys spending his time away from work with his family, including his beloved cavoodle Ruby. His other interests are golf, rugby and exercising.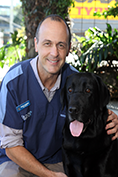 Dr SCOTT LACKENBY BVSc, MANZCVS (Small Animal Medicine), AQIS-accred
Veterinarian, Partner
Scott joined Gordon Vet Hospital in 1999 and was immediately impressed with the high level of veterinary care and customer service. He became a partner and gained membership in the Australian and New Zealand College
of Veterinary Scientists in Small Animal Medicine in 2002. His particular medical interests include dermatology, endocrinology and geriatric care.
Scott is very popular amongst clients for his kind hearted approach to pet care and his great sense of humour. He also enjoys engaging with the team of vets and nurses, and nurturing their development in our
wonderful and evolving industry.
He is married to Gordon Vet's Sam and they have 4 beautiful girls, Phoebe, Charlie, Zara and Alex, whom all love their Labradors Judo and Ted and cat Oscar.
He enjoys keeping fit, getting wet, and getting outdoors with the family.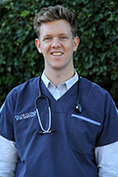 Dr JOHN MORGAN BVSc (Hons) MANZCVS (Small Animal Surgery) MVS (Small Animal Practice)
Veterinarian, Partner
John is a Pymble local who developed an interest in veterinary medicine from a young age. He spent a lot of time with his uncle, also a veterinarian, on his farm in Manila, NSW during his summer holidays. John first worked at Gordon Vet Hospital from 2004 as a weekend nurse whilst studying veterinary science.
After graduating from Sydney University, John put his emergency, dermatology and soft tissue surgery skills to work in Goulburn for a few years. He then lived in Canada where he locumed for over two years in British Columbia and Ontario. This gave him time to enjoy travelling in North America, hiking, kayaking and sports such as snowboarding and snowshoeing. Back home in 2013, John came to work at Gordon Vet and our clients are really enjoying getting to know him. Outside of work, John enjoys keeping fit by running.
In 2013 John completed his postgraduate studies in Small Animal Practice and in 2015 gained Membership to the Australian and New Zealand College of Veterinary Scientists in Small Animal Surgery. He is furthering his surgery knowledge with a post graduate course in small animal surgery starting in 2018.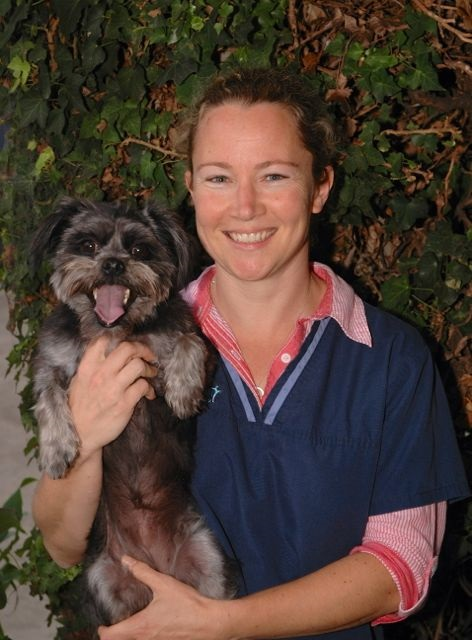 Dr HELEN BURNS BVSc (Hons)
Veterinarian
Helen graduated from Sydney Uni in 1997 with First Class Honours and worked in a practice on the Northern Beaches for 16 years. Helen joined the Gordon Vet team early in 2014 and our clients have really enjoyed getting to know her. She loves being a vet and takes a keen interest in all of her patients. Her gentle, friendly nature helps pets to feel relaxed when they visit the vet.
Helen lives locally and has 3 children. At least one of her children seems destined to be a vet! When not ferrying her children around, Helen cares for her menagerie of pets. These include Chloe the dog, Obi and Leia the cats, Little Cocky the galah and Rosie the very tame eclectus parrot who all happily coexist at her house.
In her spare time, Helen likes to be active outdoors, running, kayaking, camping or playing any manner of sport with her children.

Dr CATHERINE CHEN BVSc (Hons)
Veterinarian
Catherine joined the team after quite a bit of time locuming with Gordon Vets. She spent her childhood growing up in Sydney and now lives locally with her husband and two young children, Oscar and Chelsea, the eldest of whom has just started school.
Catherine graduated with a Bachelor of Veterinary Science from Sydney University in 2001. Her parents always predicted she would become a vet as a child, because she spent most of her time saving insects from their swimming pool.
After graduating, Catherine worked for a year at a practice in West Pennant Hills and then headed overseas to the UK. She worked for five years in general and emergency practices in London and South-East England, before returning home to vet practices in the Inner West and Northern Beaches.
Catherine has a keen interest in all aspects of veterinary medicine, but especially enjoys internal medicine, dermatology, dentistry and ultrasound.
Catherine is the only bilingual member of the vet team, speaking English and Mandarin!
In her spare time, Catherine enjoys adventure travelling, including skiing, diving, caving trekking and white water rafting. She has even spent time with the Mountain Gorillas in Rwanda.
Dr IMOGENE EWEN BVSc (Hons)
Veterinarian
Imogene joined Gordon Vet in January 2018. She graduated from the University of Sydney with first class honours and spent her first few years working in a vet practice in Sydney's inner west.
Imogene is passionate about all aspects of veterinary medicine and has a special interest in small animal surgery. She knew she wanted to be a Vet from a young age, growing up on Sydney's lower north shore with a menagerie of animals including: dogs, cats, chickens, rabbits, fish, axolotls, wild native birds, green tree frogs, and two Murray River turtles. Imogene now lives with her gorgeous cat Abbie.
In her spare time, Imogene enjoys keeping active by running around the Sydney foreshore and playing soccer. She also loves travelling, the cinema and dining out.
Our Nursing & Reception Staff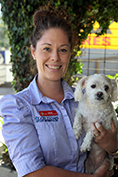 Layne Craig
Head Nurse
Layne joined the Gordon Vet team in 2001 and has been Head Veterinary Nurse since 2004. She grew up around animals, surrounded by pets at home and also regularly visited her relative's farm near Dubbo where she worked with cattle, sheep and later pigs!
Layne is a very familiar face at Gordon Vet for all of our clients as she mainly works in our front reception. She is amazing at remembering the names of so many animals and their owners! With a strong retail background, Layne's customer service and people management skills have always been exceptional.
Alongside Nicole, Sarah and Laura our reception staff ensure that your visit to Gordon Vet is a pleasant one.
Behind the scenes, Layne has several responsibilities as Head Nurse. She trains and mentors staff, manages stock and invoices and is involved in hospital marketing. Layne is also a very capable nurse when called upon.
In her spare time, Layne loves hanging out with her 2 dogs and planning exciting travelling adventures. This year she is heading off to Europe, primarily Italy, Greece and Turkey.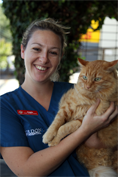 Angela Fawdry
Deputy Head Nurse
Angela is our most experienced veterinary surgical nurse and joined Gordon Vet full time in 2002. Since then she has gained a Certificate 4 in Vet Nursing and in 2008 became an Advanced Veterinary Nursing Technician which is the highest nursing qualification in Australia. She is now Deputy Head Veterinary Nurse and Senior Surgical Nurse at Gordon Vet.
Day to day, our clients may not see Angela often as she is in the treatment area; however Angela runs the surgery side of our hospital like clockwork! She knows all the animals well and has a lovely gentle nature that they really respond to. Angela is also a very good mentor for the team and guides and trains other nurses beautifully.

Hollie Jessop
Veterinary Nurse
Hollie has been a veterinary nurse at Gordon Vet since 2005. She has completed a Certificate 4 in Veterinary Nursing as well as a course in Advanced Small Animal Nursing.
Hollie grew up loving animals and currently lives on acreage on the outskirts of Sydney, surrounded by deer, horses, rabbits, dogs and birds. As a 14 month old baby, Hollie developed meningitis and as a result became hearing impaired. However, this has not stopped her dream of working with animals.
At Gordon Vet, Hollie is not often seen by our clients, but the animals know her very well! She is in charge of the part of the surgical team responsible for patient care and diagnostic testing. Hollie considers herself an animal whisperer possessing unique skills for pacifying stressed and awkward animals something she discovered as a child.
Hollie recently rescued a stray kitten nicknamed Spike and he has been settling in with her beautiful daughter Rylee extremely well. 2014 was a special year for Hollie as she was named Runner Up in the National Vet Nurse of the Year Awards and then two weeks later she got married!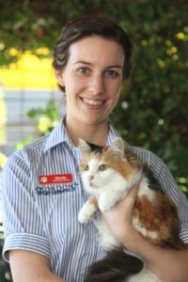 Nicole Keith
Receptionist
Nicole joined the Gordon Vet team on reception in mid 2014. She has an excellent background working in pet shops and vets for many years and of course she loves animals – so it has been an easy transition for her to settle into Gordon Vet. Nicole fits in very well with the team and they have a lot of laughs. She ensures that all our clients and their pets are treated well from the moment they arrive. Nicole has finished a Certificate 2 in Veterinary Nursing and is working toward her Certificate 4.
Outside of work, Nicole has a tortoise shell cross ragdoll cat named Princess. Nicole really enjoys baking, art, music and volunteering in local community Church projects.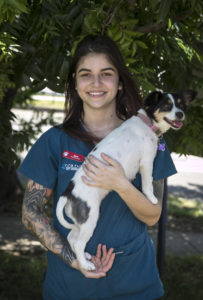 Dani Acheson
Veterinary Nurse
Dani started at Gordon Vets in 2014 while studying her Certificate 4 in Vet Nursing and now that she is fully qualified she is valuable member of our nursing team. Dani has a particular interest in surgical nursing which has influenced her to study a diploma of surgical and emergency nursing. She is incredibly thorough and caring towards all of our patients.
Dani loves birds, exotic animals and wildlife and in her spare time Dani enjoys going to the gym, travelling and exploring new places. She is also a competitive gamer.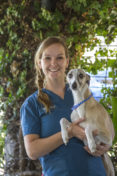 Janie Goodyer
Veterinary Nurse
Janie started work at Gordon Vet in October 2015. She previously worked in several different roles at Taronga Zoo including as an encounter Photographer and as a Zoo Keeper, working with many different species from tiny Chameleons to big Cats. The skills Janie picked up from Taronga Zoo have made her exceptional for wildlife care at Gordon Vet and you may have noticed her excellent photography skills on our social media posts!
Janie has her certificate 3 in Captive animal management and a certificate 3 in dog behavior and training. Since starting Janie has loved working as a nurse.
Outside work, Janie enjoys dog training in obedience and scent detection with her whippet Rhea and Trail riding and natural horsemanship with her horse Tyson.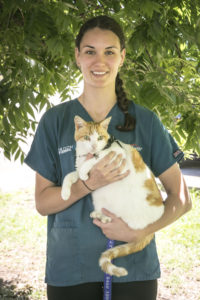 Brittany Hopkins
Ward Nurse
Brittany joined the Gordon Vet team in 2015. She spends a lot of her time taking care of our lovely boarders and in hospital patients and has come to know them very well. She loves being able to establish a bond and gain trust from her patients.
Brittany spent 4 years in Queensland before starting at Gordon Vet. There she worked with horses and other farm animals. She has always had a passion for animals and is the proud owner of two friendly cockatiels, Monty and Lacey, as well as a ginger and white cat called Foxy.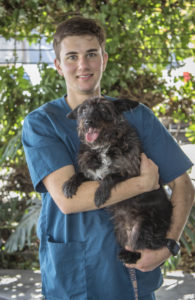 William McLean
Veterinary Nurse
William started at Gordon Vet in a volunteer role in 2013 while studying his Certificate 2 in Animal Studies. Since then he has become a permanent member of the team and has achieved his Certificate 4 in Vet Nursing, with aspirations to study veterinary or human medicine at uni. He really enjoys getting to know the animals, and is interested in further developing his skills in nursing.
When he's not at work, William enjoys long-distance trail and road running- a passion that is also shared by his rescue dog, Molly.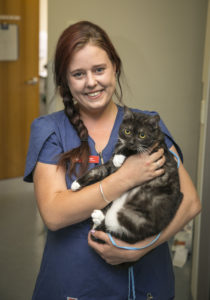 Sarah Hussey
Receptionist
Sarah joined the Gordon Vet team as a ward nurse in 2008 and has worked in a casual capacity until August 2017 when she came on board full time. Sarah loves engaging with our clients and getting to know their pets.
She is very passionate about rescuing cats and fostering kittens before they find their forever home and at home she has her three rescue cats, Alley, Aslan and Lulu, as well as her bearded dragon Smurf. In her spare time she enjoys relaxing, gardening and good coffee.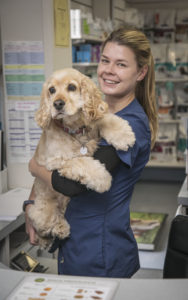 Laura Griffin
Receptionist
Laura started at Gordon Vet in 2017. She has known her whole life that she wanted to work with animals so becoming a Veterinary Nurse was no surprise!
After growing up in Hong Kong, Laura moved to Australia to study Veterinary Nursing and has never looked back.
Laura adopted a stray kitten called Jasper back in 2015 and one day hopes to have a house filled with cats and dogs!
In her spare time, Laura likes to stay fit by running and walking the beautiful walks that Sydney has to offer. She also loves to travel and hopes to undertake some volunteer work in Thailand in the future.