Laboratory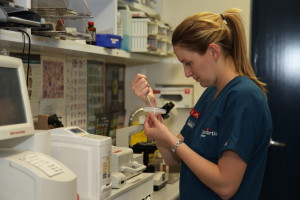 So what laboratory equipment do we have?
Our in-house laboratory equipment ensures that blood results, cytology (microscopy) and urine tests can be performed and results obtained within the hour. If an animal is unwell, blood & urine testing can be a vital piece of the puzzle in diagnosing the problem. Our on-site laboratory allows a diagnosis to be reached as fast as possible and we do not have to rely on courier pick-ups and external pathology labs to run the tests. Certainly not all veterinary hospitals and not even human GP's have extensive diagnostic laboratory equipment on-site.
Haematology Analyser
Analysis of red blood cells, white blood cells & platelets.
Useful in cases of anaemia, blood loss, infection, chronic disease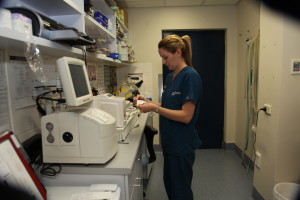 Biochemistry Analyser
Kidney function, liver function, electrolytes, protein levels and diabetes
Emergency Blood-Gas Machine
Critical care monitoring eg severe tick paralysis, trauma, respiratory problems
Coagulation Testing
Tests blood clotting ability
Useful in cases of suspected rat bait poisoning or bleeding abnormalities
Urinalysis
Tests the urine for glucose (diabetes), protein, bacteria (UTI), blood and pH level
Microscopy
Skin testing, ear swabs, fine needle aspiration (eg lumps, fluid analysis), blood smears
Other Tests
We are also able to test for Canine Parvovirus, Canine Heartworm Disease, Pancreatitis (CPL), Feline Immunodeficiency Virus (FIV), Feline Leukaemia Virus (FeLV), Ringworm.
Reference Laboratories
We also have access to the best external laboratories in Australia and carefully choose where to send our external tests so as to receive the best outcomes for your pet.