Pet Surgery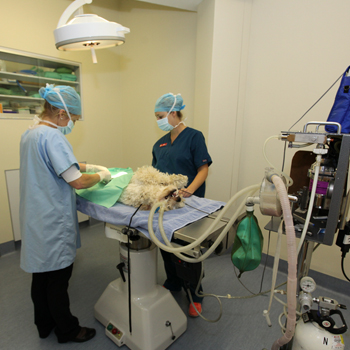 Gordon Veterinary Hospital has two fully equipped operating theatres. The operating theatres are the envy of many human hospitals and are used for a wide variety of surgical procedures, just some of which are described below.
Desexing Surgery
One of our most common surgical procedures is surgical sterilisation or desexing of dogs, cats, rabbits and sometimes other exotic pets such as rats or ferrets. Click here for more information on desexing.
Soft Tissue Surgery
Soft tissue surgery implies just that – surgery of just about anything that is not bone! We commonly perform soft tissue surgery on just about all the body systems. Some common surgeries would include:
Bladder stone removal – surgical removal of stones from the bladder to correct cystitis and blockage of the urinary tract.
Caesarian section and assisted whelpings – some dogs and some breeds have difficulty giving birth and a caesarian section is performed just like in a human hospital. Always a favourite with the nurses!
Foreign body removals from the intestinal tract – this rewarding surgery involves the removal (via surgery or endoscopy) of all the amazing things that pets can swallow – string, golf balls, stone fruits, corn cobs to name but a few! If diagnosed and treated early this is a successful surgery but can be life threatening if there is already rupture or severe damage to the intestinal tract.
Gastric dilatation (bloat) – this is a life threatening condition where the stomach becomes massively dilated and can sometimes twist (volvulus).
Anal gland flushing or removal – infected or blocked anal glands are a common problem in dogs.
Soft palate / blocked nostril repair – many smaller breed dogs have an overly long soft palate and squashed nostrils. If treated at an early age (6 months to 2 years) this treatment is lifelong and highly successful.
Skin surgeries would include haematomas (large blood blisters) on the ear and skin biopsies / lump removals for diagnostic or cancer treatment. See below for more information on cancer treatment.
Wound management is an area of great expertise within the practice – wounds can reach an alarming size after road traffic accidents or cancer surgery. They must be managed with a combination of pain relief, nutrition, high technology dressings and sometimes advanced surgical techniques to graft or flap skin from other parts of the body.
Eyes can develop painful ulcers which on occasion need to be debrided (surgically cleaned up) under general anaesthetic.
Ears can develop painful infections or rupture of the ear drum and these are often managed by gentle but thorough flushing under anaesthesia.
Cancer Surgery
As our pets age cancer becomes a more common problem. Many of our pets will be diagnosed with cancer at some stage and although this is chilling news there is much that can be done.
Cancer diagnosis and treatment is one of our most proficient areas – it requires the cooperation of veterinarians with varied diagnostic, surgical and medical skills not to mention the facilities and care that only a large hospital like ours can provide.
The role of surgery as the most effective form of cancer treatment is undisputed – more pets have been treated for cancer with surgery than with all other methods of treatment put together. Successful cancer surgery requires careful diagnostics and planning, meticulous surgical technique and ongoing supportive care. We often consult with a veterinary oncologist (cancer specialist) before and after surgery.
Some common cancers would include aggressive skin lumps, liver or spleen cancer, mouth cancer, bladder cancer, mammary cancer, intestinal cancer and lymphoma. See our section on cancer treatment for more information.
Orthopaedic Surgery
Orthopaedic surgery is the diagnosis and treatment of diseases affecting bones, joints, muscles, tendons and ligaments. Lameness, stiffness, a slowness to rise or even behavioural problems are a sign that there may be a problem within a joint or bone. This should be investigated through manipulation under anaesthesia, x-rays and possibly biopsies.
Some common orthopaedic problems would include:
Cruciate ligament rupture: Dogs have knees that are very similar to ours and can do the same damage to the cranial cruciate ligament and 'cartilages' (meniscii). A tear or complete rupture of these structures will lead to pronounced lameness and ongoing arthritis. Surgery is the best treatment for most pets.
Hip dysplasia: This is a common problem in many large breed dogs. Early diagnosis (before 4-6 months) provides a window of opportunity to surgically correct this condition before arthritis sets in. Surgery may not be the best option if arthritis already exists and the animal is comfortable through rest, gentle exercise, medication and physiotherapy. Our vets have further training in hip dysplasia through our PennHIP program.
Fractured bones: normally occur after a fall or road accident and pets often present with life threatening injuries to other vital organs. Treatment of fractures is undertaken at the right time and is a highly technical procedure utilising bone plates, pins, external frames and more.
Spinal problems: There are numerous diseases which can affect the spine of animals and some of these are best treated with surgery.
If you suspect your pet needs help on any of these issues please call 94983000 or Book Online.