Joey's Staff Member of the Month
By Scott Lackenby | Dated March 12, 2015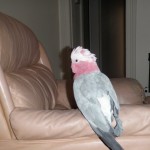 Hey gang! How are you all? If you've been to the shops recently you will know that Easter is just around the corner. While I can't believe how quickly the year is going, I am eggcited, (see what I did there!), that Easter is almost here. It means I will have a bunch of my friends back for Easter boarding! If you would like your feline friend to holiday with me in the cattery, please give the Nurses a call to reserve their place. Our cat boarding is very popular, I'm sure it's because of me, and I would hate for your cat to miss out on spending some quality time with me!
This month I'll be profiling a member of the GVH team that I'm having an unashamed bromance with. His chair is one of my favourite spots to have a nap and he spends a lot of time teasing me and roughing me up. That's right, I'm talking about Dr John Morgan. Dr John has had two roles with us at GVH. He first started with us back in 2004 as Nurse John while he has studying to become a Vet at Sydney Uni. Dr John graduated in 2007 and his first job as a Vet was in Goulburn at the clinic Nurse Katrina's family have been taking their animals to for 30years! Dr John worked in Goulburn until 2010 when he and his now fiance Sarah spent two years travelling around Canada where Dr John was a locum Vet in British Columbia. Dr John mostly worked in Vancouver, but went as far north as the Canadian-Alaskan boarder and also around Toronto in Ontario. When they returned to Australia, Dr John locumed around Sydney before starting with us in April 2013.
Dr John wanted to be a Vet as he was interested in Science and Biology and really didn't want a job where he was stuck sitting at a desk all day. Dr John always had a love of animals, and his Uncle was Vet and Dr John always remembered how fondly he spoke of his job. Dr John loves surgery and cases involving joint disease, but really loves any case that poses a challenge. Dr John completed a Masters in Clinical Studies in 2013 and in June/July he will be sitting an exam for his Surgery Membership. Dr John says that the best part of the job is being able to come to work every day and knowing that it will present a new challenge. Not surprisingly, he says the worst part is having to say goodbye to patients that have become very special to him.
Growing up, Dr John's first pet was a Beagle cross called Ralph who had a heap of personality and street smarts and was constantly surprising Dr John. Currently Dr John has a Galah called Dexter. Dexter is a feisty fellow who Dr John rescued while he was in Goulburn after he was found being attacked by Mynah birds. Dexter loves people and tearing the wall, furniture and carpet to shreds!
So, next time you are in, be sure to say hello to Dr John. He's the tall Vet who is always smiling! Well, better go. There's still things this busy Pymble Vet clinic cat needs to do before he can have his dinner! Meows for now, love Joey xoxo