Joey's Staff Member of the Month
By Scott Lackenby | Dated December 11, 2014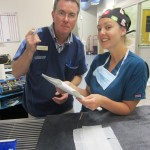 Hey gang! How are you all? I've said it before and I'll say it again. I HATE STORMS!! With the amount we've been having, we have sold out of one of the common storm phobia medications twice! If your Pet suffered from storm phobias, there are medications that can help. There are also non medication options, so please call us to discuss the best option for your pet.
Now I know I said I'd be profiling someone I have a bromance with, but that will have to wait because the awesome lady I'm going to tell you about today is about to leave me again for a little while, so I had to tell you about her before she goes. My human star for the month is Nurse Ange who finishes up at the end of the month as she is due to have her second baby in February. Although I'll miss her, I'm super excited that Nurse Ange is having another baby. I still remember the day she came in for the first time after having Blake, her first baby. He has grown so much since then but he'll be a great big brother.
Nurse Ange started at GVH back in 2001 as a casual kennel hand working on the weekend. She was so amazing at her job that she was made a full time Nurse in 2002. Nurse Ange liked the sound of being able to nurse animals back to health, and had always loved animals, so being a Vet Nurse was a great job for her. Apart from working at McDonald's when she was at school, Nurse Ange has only ever worked at GVH! She is one of our most experienced and qualified Nurses and was our Head Surgical Nurse before having Blake.
Nurse Ange grew up with cats. When she was young, there was Coco and Casper, and later came Miffy, Sooty and Meeka. Meeka was an orphaned kitten that Nurse Ange hand raised.
Nurse Ange says the best part of the job, apart from getting to hang out with me, is helping patients through illness and the recovery process and also helping their humans. She also loves meeting puppies and kittens and watching them grow into adults. The worst part of the job for Nurse Ange is saying goodbye to patients, especially when she has known them since they were young.
With Nurse Ange finishing up in a few weeks, you haven't got long to pop in to say hello. We are certainly going to miss her but wish Nurse Ange, her husband Ben and Blake all the very best with the new baby and next chapter in their life and look forward to her coming back to work at some stage.
Have a great weekend all I'll catch you all next week. Meows for now, love Joey xoxo
Nurse Anger