Breed of the Month
By Scott Lackenby | Dated February 12, 2015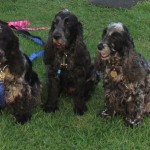 This month I will be profiling a breed of dog that was first mentioned in the 14th century. Originally breed in the UK for hunting, they were brought to the USA to hunt American Woodcock and as a result, physical changes were bred into the breed. This led to their now being two recognised variations of the breed, the English and the American. That's right, I'm talking about the Cocker Spaniel. When I decided to profile Cockers, as they are affectionately known, it wasn't hard for me to think of a client to ask. Not only have Sue and her Mum Ruth been clients of GVH for a long time, they have always had Cockers. Unfortunately for them, they have always had high maintenance Cockers who regularly come to visit us! While Cockers are prone to ear, eye and skin issues as well as hip dysplasia, Sue and Ruth have had more then their fare share of issues over the years. Despite this, they are huge fans of Cockers.
Names: Connor, Fleur and Jaxon
Ages: 11years, 8years and 5years
Weight: Fleur is 12kg. Connor is big by Cocker standards and weighs 15kg.
Did you research breeds? No
What made you decide to get a Cocker Spaniel? My family has always had Cockers. My Mum was given a Cocker by her father when she was a teenager and then when she met my Dad, he had Cockers so I was destined to have them!
Breeder? Rescue? Pet Shop? All three came from a breeder
Best thing about the breed? They are great with kids, they are affectionate and love attention and cuddles. They are an active breed which I love as I do agility with them.
Worst thing about the breed? They need regular clipping and grooming. They are water loving dogs and all three of mine struggle to walk past water without jumping in!
Something people may not know about the breed? They love being lap dogs but also need regular exercise. They like to be involved in what's going on so aren't great at being left on their own. Originally they had their tails docked to stop them getting stuck in the reeds when they were hunting, but thankfully tail docking is no longer allowed.
Who would you recommend the breed to? Anyone who wants and affectionate and active dog to be part of their family. And someone who is committed to regular grooming.
Memorable moment? SOO many! I love doing agility with them. I'll never forget when Fleur got four clear runs at her first national agility event. I was very proud when I was told at an international agility seminar that Jaxon was a fantastic dog. Although he actually belongs to my Mum, Connor is convinced he is my dog, so comes everywhere with the other two. I have a caravan and have travelled around Australia with all three of them. We have seen some amazing places together! I feel very lucky to have three such amazing dogs.
So there you go, a look at Cocker Spaniels. Enjoy the rest of your week and I'll catch you all next week. Meows for now, love Joey xoxo