Breed of the Month
By Scott Lackenby | Dated December 3, 2014
It's a bitter sweet Breed of the Month this month. When we talked about profiling breeds and started making a list of the animals who would be great to highlight some of the amazing breeds out there, Rodney the Weimeraner was at the top of my list. All dogs are special, and as a Vet Nurse, you look after everyone who comes in as if they were your own. But Rodney was extra special. We always knew when Rodney was here, you could hear his excited barks from the bottom of the driveway! He learnt VERY quickly that sitting on the scales meant you got liver treats, and if the Nurses at Reception were busy on the phone, if you barked they would give you more treats to keep you quiet! He would happily go to the treatment room with whomever wanted to take him out there, and when he was out there, smiled at everyone who walked past. Rodney's parents, Phil and Wendy, took him on an amazing holiday in the top end last year. As you will see from the pictures, Rodney probably had more fun than they did! Sadly, Rodney unexpectedly went to doggy heaven last month. We were all devastated. But Phil and Wendy have kindly let us still use Rodney as a fantastic exampl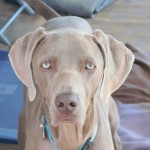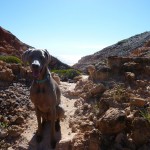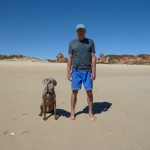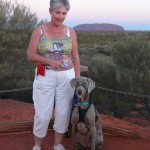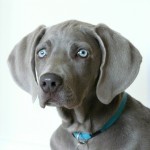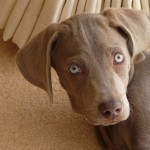 e of the happy, lively and rambunctious breed that is the Weimeraner.
Originally bred for hunting in the early 19th century, Weimeraner were used to hunt large game such as boar, bear and deer. When the popularity of hunting large game declined, they were then used to hunt small game such as fowl, rabbit and foxes. Bred exclusively for nobility, they were highly prized and lived with the family. This was highly unusual as hunting dogs traditionally lived in packs in kennels.
Male Weimaraners weigh between 32-37 kg and reach heights of between 63-68 cm. Females weigh between 25-32 kg and reach heights of between 58-63 cm. The average life pan is between 11-14 years.
Name: Rodney
Age: 3 years and 3months
Weight: 29kg
Did you research breeds? Not really
What made you choose the breed? We wanted a big dog with short hair. 30 years ago we saw a Weimeraner and decided that was what we would get if we ever got a dog.
Breeder? Rescue? Pet Shop? Breeder. We visited a lot of breeders and ended up getting Rodney from the first breeder we visited.
Best thing about the breed? Nice temperament. Non aggressive and soft mouthed. They are good guard dogs and are loyal. They like to run. Weimeraners like to be with people.
Worst thing about the breed? Full of energy! They need A LOT of exercise. They want to be involved in everything you do and often suffer from separation anxiety.
Something people may not know about the breed: Their eyes change colour from blue to amber over about 3years.
Who would you recommend the breed to? Family with kids over 5 years. People with a large yard and access to an off leash park. People who like a lot of exercise.
Memorable moment: We bought Rodney a soft, collapsible cage for him to sleep in at night when he was young. Wendy was in the kitchen one morning when she felt a wet nose on her leg – Rodney had eaten his way out of the cage!!