Romeo and the vet
By Scott Lackenby | Dated September 3, 2018
Working in a veterinary hospital really never has a dull moment.  There is so much variety in the patients that we see, the range of illnesses and injuries that occur, and the emergencies that they sometimes present with. Our patients regularly surprise us with how well they cope, and little Romeo the 1 year old cat is certainly no exception.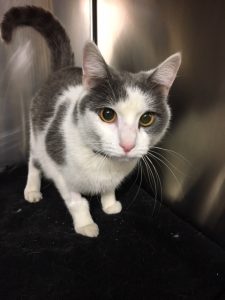 Romeo first came in a couple of weeks ago with a cough. His trachea was sensitive when palpated and we thought that he had tracheitis, or possibly a foreign body in his airway such as a blade of grass.  Although the cough settled with the antibiotics, the noisy breathing persisted, so he was admitted to hospital and given intravenous sedation to take x-rays of his chest. On close inspection of the x-rays, there was a suspicious looking opacity seen in his trachea, which needed further investigation.  So next, Romeo was given a general anaesthetic and his trachea was examined with the endoscope. Sure enough, lodged a fair down his trachea was a piece of plastic, which was removed with a very long, narrow pair of forceps called alligator forceps.
Foreign  bodies in the airway are a very uncommon finding, and Romeo was certainly a very lucky little boy that the plastic lodged in the position it was in, where air was able to pass around it.