Peeta and her troublesome toe
By Helen Burns | Dated November 25, 2021
Peeta the one and a half year old kelpie cross dog should be counting her lucky stars !  
9 months ago she was being taken care of by a rescue agency, having had a litter of pups when she was only a pup herself. Luckily for her, she was taken to a loving home for a trial, and she hasn't looked back.
 Kelpies thrive on exercise and work, and are amazing athletes to watch when they are working on a farm, participating in agility or rounding up the other dogs at the park! Peeta's owner had grand plans to give her plenty of opportunities to do what she loves, and was looking forward to her doing agility among other things. Unfortunately Peeta had an ongoing limp in her back leg, and a toenail that can best be described as wonky. No matter how it was trimmed, it was determined not to grow properly and was putting pressure on her footpad, causing Peeta pain. 
Her owner was determined to give Peeta the quality of life that she deserves, and brought her in for us to examine her toe under general anaesthetic and take some x-rays. Unfortunately these showed that not only was the bone attached to her toenail very abnormal, but the nail was growing through her footpad. With the concern about the possibility of a cancer in her toe hanging over our heads, and the pain that this nail was causing, we proceeded to remove the end of the affected toe. 
Surgery went very well and to our immense surprise, Peeta bounded out of Gordon Vet a few hours after the amputation with no limp at all ! As we walked her to the front door for her discharge, she bounced up to each and every staff member and greeted them with such happiness. 
It's now a week down the track and Peeta is doing all the things that kelpies do, enjoying life and making everyone around her feel happy!. The lab results even brought a smile to all our faces today with no sign of cancer in the amputated toe!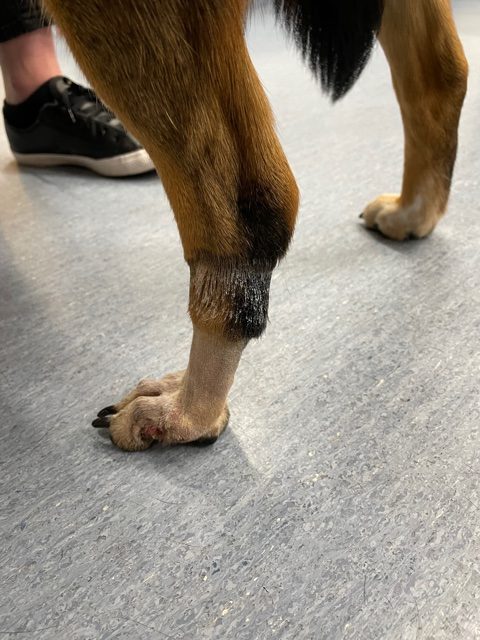 We now look forward to hearing all about her adventures doing agility in the future.