Frankie – Joey's Pet of the Week
By admin | Dated February 12, 2014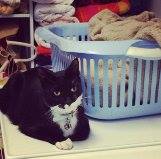 Heya everyone, How have you all been? Hasn't the weather been funny? Hot one day and then cool and rainy the next. It's hard to keep up with Mother Nature. It's been busy here at GVH which keeps all of us out if mischief. Well, most of us. I lost my second collar and tag in 3days. I just think it's easier to get into mischief if I'm not wearing an ID tag. At least that way no one will know who I am.
Yesterday was a good day for me. It was Nurse Emma's birthday and that means cake. I like cake but we had ice cream cake yesterday, which is even better than normal cake.
My star this week is the gorgeous Miss Frankie, an almost 4 year old Staffy X. Frankie came in for surgery after rupturing her cruciate ligament which is a common injury in dogs and human football players. It is not normally a painful injury, but leaves the knee joint unstable and prone to sore arthritic changes if not corrected. Frankie had managed to fully rupture the ligament which was replaced with an artificial one made from super heavy duty nylon similar to the type of fishing line you would use if you were deep sea fishing for marlin.
Frankie did really well after surgery and stayed with us for 3 days so we could do physio on the knee to help with recovery. As on-going support for Frankie's recovery she will be switching to Hills J/d (mobility) dry food. This is a joint support food which is rich in Omega 3 fatty acid, EPA, to nourish cartilage. While she won't have the same range of motion with the artificial ligament, Frankie will still be able to run and jump and be a normal puppy.
Well, I'd better go. The order is here and I love to help put it away. Well, I actually like playing in the boxes once someone else has unpacked them, but it's still helping. Chat to you all next week. Meows for now, love Joey xoxo