Cancer Medicine (Oncology)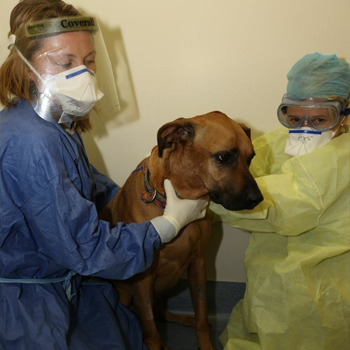 Oncology is the diagnosis and treatment of cancer, which is an area of growing interest as our pets age and are thus more prone to this devastating disease. Yet for all the fear and uncertainty around cancer in our pets it can be associated with very successful outcomes for many patients.
Successful cancer treatment relies upon thorough diagnosis, appropriate treatment and ongoing monitoring. Any shortcuts along the path can have serious consequences just as they would have in the treatment of human cancer.
Diagnosis & Staging
The first step is an accurate diagnosis of the cancer and an assessment of where it may have spread. Many tumours are benign and will not have spread anywhere, some can spread into adjacent tissue and others can spread to distant tissues (metastatic disease).
It is vital to obtain an accurate picture of the tumour and the general health of the pet, especially if surgery is being considered. After all there may be little point doing major surgery if your loved pet is already suffering from another serious disease or if the cancer has spread to other non-operable areas. Some of the steps in making this diagnosis and assessment (staging) are as follows:
Biopsy the lump to confirm the type of tumour and its likely behaviour (will it spread and to where? how fast will it grow?)
Checks for metastatic disease such as x-rays, ultrasounds and the like.
Identification of any pre-existing disease that may affect the prognosis (even if unrelated to the cancer itself).
Consultation with a specialist oncologist as needed.
Treatment of Cancer
Treatment of cancer usually (but not always) involves surgery. See the section on surgery for more information.