Congratulations on the new addition to your family, a bundle of joy, love and companionship! This handout will simplify what you need to do as a responsible pet owner.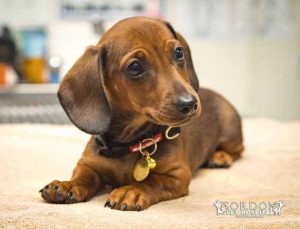 VACCINATION
Vaccinations are an important means of protecting your puppy against some of the potentially fatal diseases of dogs. We find the following schedule to be most effective:
6-8 weeks Distemper, Hepatitis and Parvovirus (C3)
12-14 weeks Distemper, Hepatitis, Parvovirus, Bordetella, Parainfluenza, Leptospirosis and Canine Coronavirus (C7 Vaccination)
16-18 weeks Distemper, Hepatitis, Parvovirus, Bordetella, Parainfluenza, Leptospirosis and Canine Coronavirus (C7 Vaccination)
While we encourage early socialisation between dogs, puppies should be isolated from dogs of unknown health status until after their final puppy vaccination. Yearly boosters are needed to continue this protection. A vaccination reminder will be sent to you when your dog is due for the next vaccine.
HEARTWORM
Heartworm is carried by mosquitoes and prevention should begin at 12 weeks of age (around the time of the 2nd puppy vaccination). We recommend MILPRO monthly. It also protects against intestinal worms! Once your dog is 6 months old a popular alternative to this is the ANNUAL HEARTWORM INJECTION (Proheart-SR12). This is given at 6 months old (desexing time). Once the puppy is an adult, a heartworm injection can be given at the same time as the annual vaccination. NEXGARD SPECTRA is a monthly flea, tick, heartworm and intestinal worm preventative – please note, however, that it does not cover intestinal tapeworms.
INTESTINAL WORMS
Worming is extremely important for hygiene as certain intestinal worms can be transmitted to humans and cause disease. Worms in high numbers can be fatal for puppies. Puppies should be wormed according to the following regime:
Every 2 weeks until 12 weeks of age, monthly until 6 months, then every 3 months for life. (An easy way to remember this is with the change of season.) We recommend MILPRO.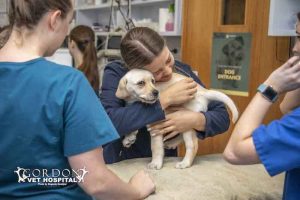 DESEXING
We recommend desexing both male and female dogs at 6 months of age. Please discuss with your vet delaying desexing if you have a large breed dog or have been advised against desexing at 6 months. It is considered responsible pet ownership to desex, unless breeding your dog. It prevents undesirable problems such as unwanted pregnancies, urine marking, dog fights and lowers the risk of cancer and infections. It will not change your dog's personality.
 DIET
The puppy's growth phase is up until 12 months of age. During this time, it is essential that a premium food be fed as the majority of the diet, for example, Hill's Science Diet Vet Essentials. The advantage of premium pet foods is that they provide all the nutrients for the puppy in the correct balance. In comparison, cheaper supermarket brands often have poor nutritional value. DO NOT FEED cooked bones, chocolate, onion, garlic, grapes, sultanas, raisins or macadamia nuts as these can be dangerous for dogs.
FLEAS AND TICKS
In this area, fleas and ticks are a problem all year round. We recommend year round prevention.
TICKS To help prevent tick paralysis and fleas we recommend:
BRAVECTO chews given every 3 months (protects against fleas and ticks for 3 months)
BRAVECTO* spot-on applied every 6 moths (protects against fleas and ticks for 6 months)
BRAVECTO MONTHLY chews are recommended while puppies are still in their active stage of growth (protects against fleas and ticks for 1 month)
 NEXGARD chews given monthly (protects against fleas and ticks for 1 month)
NEXGARD SPECTRA chews given monthly (protects against fleas, ticks, heartworm and some intestinal worms)
A SERESTO COLLAR* can be used (protects against fleas for 8 months and ticks for 4 months)
A daily search of your dog
*Bravecto spot-on and seresto collars are recommended only for primarily indoor dogs or those living outside of known tick hot spots.
It is important to treat all cats and dogs in the household. If your dog is found to have a flea infestation and signs of scratching please call 94983000.
If you find a tick on your cat please call 94983000 immediately as tick paralysis can be deadly in dogs.
TRAINING
There are PUPPY CLASSES held at Gordon Vet Hospital run by a qualified dog trainer on Sundays at 10am. The classes run for 4 weeks and each session is 1 hour. They are for puppies 8-16 weeks old and are an excellent way for your puppy to socialise and begin some basic training in a fun environment. Bookings are essential. CLICK HERE for more information.
HEALTH INSURANCE
To insure your dog against unexpected veterinary costs is wise. If you are considering insurance, it is best to start when your dog is young as insurance companies rarely insure a condition that is considered "pre-existing", meaning occurring prior the policy start date. We advise you research the most suitable policy for you. For more information we encourage you to read the Australian Veterinary Association Recommendations regarding pet insurance.
Please do not hesitate to call us on 9498 3000 if you need advice on your dog's health or care. We are here to help you 7 days a week.