DENTISTRY: How To Care For Your Pet After Their Oral Extraction
By John Morgan | Dated February 15, 2018
Even after an extensive oral procedure, the majority of dogs and cats won't exhibit signs of oral pain. Any pet owner knows their pets drive to eat will generally supersede any pain or discomfort they may be experiencing. This means it's up to the pet owner to keep them comfortable while they recover from surgery. Here is our advice on looking after your pet after their oral extraction.
What Should You Feed Your Pet After An Extraction?
Basic food preparation during the recovery from a dental procedure is usually pretty straightforward. We recommend preparing a meal of boiled or poached meat such as chicken or beef cut into small strips. This can be supplemented with a short pasta in dogs. It is best to avoid tinned food or moistened dry food as this will pack into any open wounds and interfere with healing. This should be maintained over the course of a week. Most pets will readily continue to eat hard nuggets of food even when their mouth is still sore and this could cause damage to any sutures placed in the gums.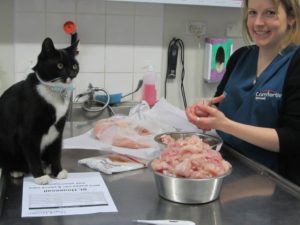 Avoid the typical hard treats, bones or chews for a week, or longer, especially when recommended by your vet.
Post-Operative Medication And Vet Checks
Please ensure you follow all instructions for medications provided by your vet. Anti-inflammatory pain medications will be dispensed for most procedures and will help with any pain after extractions. While antibiotics are sometimes prescribed they are not always a necessary part of treatment.
Most dental procedures will require a follow up check 5-7 days afterwards to ensure all extraction sites have healed well. These checks are FREE in uncomplicated cases.
Contact your vet if you need assistance in administering pills for pain or antibiotics which have been prescribed by your vet.
Care After A Complicated Procedure
Most pets will need extra special care after an involved dental procedure or extraction. A complicated extraction of a single tooth requiring a gingival flap, a full-mouth extraction (most often a feline procedure) or extensive gingivectomies can mean delayed healing or prolonged discomfort.
Follow your vet's aftercare instructions very carefully, and for the prescribed amount of time. Your pet may seem to have recovered quickly, however, this will generally not be the case. Occasionally, a very watered-down or liquid diet is necessary both for healing purposes and for comfort. While some prescription diets are the consistency of a mushy pate which can easily be made into a liquid diet, syringe feeding is rarely required.
Contact Your Vet If You Feel That Your Pet Is Not Recovering As Expected
If your pet has been sent home the same day of an involved dental procedure, your veterinarian generally expects them to be eating softened foods by the next day. If your pet refuses to eat, seems lethargic or shows signs of discomfort during the 24 hours after the procedure, call your vet.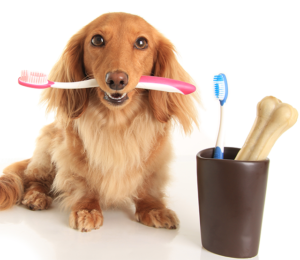 Remember, your pet may not show signs of pain or discomfort and may beg for hard food or biscuits, but their mouth might still be tender. Help them recover with lots of loving attention and some of their favourite soft treats.
If you have concerns about your pets after a dental extraction, make an appointment straight away with Gordon Vet Hospital to discuss your pet's aftercare needs.
Book your pet's free dental check with Gordon Vet Hospital today. Dental disease doesn't have to be part of your pet's life.