Winter Woes
By Helen Burns | Dated May 21, 2018
Brrrrr. As the temperature drops and we all feel like rugging up and eating comfort food, it's timely to have a closer look at our 4 legged family members and check how they are travelling.
Winter is the peak time for arthritis to rear its ugly head. In colder weather, nerves are activated to reduce the blood flow to extremities in order to conserve blood and warmth for the vital organs. It is thought that with the activation of these nerves, there is increased pain perception in joints as well.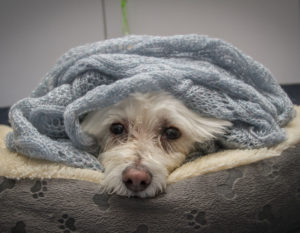 But how do you tell if your pet is arthritic?
While some pets will limp, stretch excessively and are clearly stiff, others are masters of deception and won't be so obvious.  They may just not be as keen for walks or as playful as usual, or may be reluctant to use the stairs or jump into the car.  Cats in particular may become grumpy because their joints are so sore, or may not be able to groom themselves properly and have a dull, rough coat. Ultimately, you know your pet best, and if they just don't seem quite right, it's worth checking to see if they have sore joints.
The earlier we can identify and treat arthritis, the better control we can achieve, and most importantly the more comfortable your pet will be.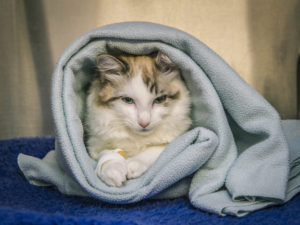 Weight control is essential so they are not lugging around any extra kilos. It is also wise to give your pet regular low impact exercise to help maintain their muscle mass and maintain cartilage nutrition and lubrication.  Going for walks for a dog, and playing with toys for a cat are good ways to help with their flexibility and keep their joints going through their range of motion.
Frequently, medical management is helpful to repair damaged cartilage and keep pets comfortable and moving.  Have a chat to one of our vets about the various options that are available. Whether your pet is a dog or a cat, and is young or old, we will be able to help!