Murphy's chemo
By Helen Burns | Dated June 24, 2021
Right at the end of April the gorgeous Murphy came in to see us for his annual vaccination and check up. Little did we or his lovely family know that this was going to be the start of rather regular get-togethers. During Murphy's physical exam, we noted that some of his lymph nodes were significantly enlarged. While this doesn't always indicate cancer, unfortunately it is often a sign of a cancer of the lymph nodes called lymphosarcoma.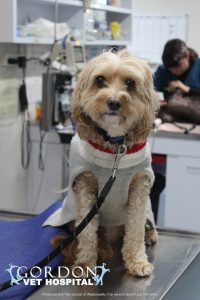 A fine needle aspirate biopsy confirmed our suspicion of lymphosarcoma, however we needed further testing to determine whether his cancer was of the T cell or B cell line, to guide our treatment. This is where little Murphy became tricky, with much discussion between various veterinary pathologists and oncologists. His family were very patient as additional testing was required in order to determine whether his cancer was active enough to both need and respond to chemotherapy.
After much analysis and discussion, it was determined that Murphy would indeed benefit from chemo for indolent T cell lymphoma that wasn't behaving in a typically indolent or inactive manner. The decision of whether or not to proceed with chemo is of course a personal one, however as a vet there are strict ethical guidelines that we follow. Chemo for veterinary patients is generally given to extend the period of good quality life rather than achieve a cure, with doses given that will both help place the patient into remission for a period of time, but that will ensure good quality of life without side effects throughout the treatment. That means no hair loss, and no vomiting.
So, for the past month, Murphy has been taking his oral chemo medications, his lymph nodes have all shrunk considerably, and believe it or not …. He is gaining weight!
We always look forward to our visits with Murphy, and we think Murphy enjoys coming to see us too 🙂