The Impossible Request
By Helen Burns | Dated June 1, 2020
There is no question that as vets we often ask pet owners to do the impossible. Stop your pet from licking their really itchy wound. Keep that elizabethan collar on while they ram into the family's legs. How about give a cat a tablet (who can do that?). Ensure that one of your 3 dogs doesn't eat breakfast before it's anaesthetic that day, while the rest of the family have to sneakily eat theirs.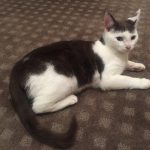 We know they are all hard and we do truly sympathise with you. However, I think the request that takes the cake happened a few weeks ago. A beautiful young family came in with their first ever pet, an absolutely gorgeous little grey and white kitten called River, who unfortunately had ringworm on both his ears. Interestingly, the name ringworm is a misnomer, because it's actually a fungal infection and not a worm at all.  This fungus frequently causes patchy hair loss in kittens, and can also be transmitted to people.
The treatment for ringworm in kittens therefore, needs to treat the kitten itself, but also to reduce the shedding of the fungus so that people and other animals don't get infected.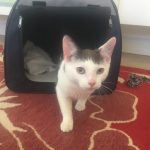 And here is where the fun starts! This lovely family not only had to vacuum their house very frequently to catch any fungus that was shed by River, nor did they just have to ensure that the three young children washed their hands well after touching him. They didn't just have to wash all their  laundry, sheets etc  in an antifungal liquid, or just  give their tiny kitten a large tablet every single day for 4 to 6 weeks. We asked River's family to bath their brand new kitten twice a week every week, and ….. to let him soak in the antifungal shampoo for ten minutes before rinsing the shampoo out!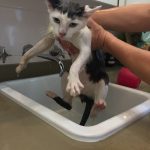 To their massive credit, River's family managed all of the above, and when we rechecked River a few weeks into the treatment, they were not only all still smiling, but had no scratches or scars to show for it all ! After all this handling and attention, we have no doubt that River is going to continue to grow into a beautiful kitten who takes everything in his stride, just like his family!