Phin's face part 2
By Helen Burns | Dated August 29, 2019
As is prone to happen with suspected grass seed abscesses, it turns out that we claimed victory a little prematurely with young Phin. 2 weeks ago, the abscess on his face that we had already surgically explored and drained (but not found a grass seed), swelled up again. Whilst we were all a little disheartened, it was time to take things to the next level.
So,  off Phin went to have a CT scan of his skull, in an attempt to see for sure whether there was a grass seed lurking in there as we suspected, but up until then, couldn't locate it or even be sure of its presence.
Sure enough, the CT scan was just what was needed, and a grass seed showed up nice and clearly, sitting right down on the bone of his nose. Now all we had to do was to find it surgically !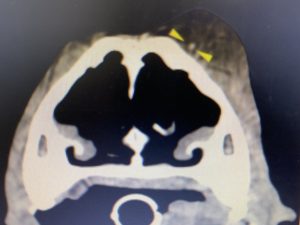 So, a few days later Phin was back at Gordon Vet Hospital, and after using the CT scan to locate where the grass seed was lodged, and ultrasound guidance to measure the exact depth of the grass seed, we were able to go straight to the spot and voila! Out it popped! We were all immensely relieved that this 7mm long by 1mm wide grass seed was finally out, and Phin could heal at last.