Joey's Pet of the Week – Pablo and the Rat Bait
By Scott Lackenby | Dated May 4, 2016
Heya peeps! How are you all? I have a whole list of clinic/staff news to get through, so lets gets cracking!!
Firstly, be sure to enter our Mother's Day competition so you are in the running to win the amazing hamper. There would be no better way to spoil your Mum or yourself! Just pop in to complete to entry form.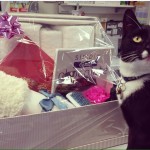 Still no postcard from Dr John OR Nurse Janie. I am sharpening my claws and awaiting their return…. Both are apparently having a great time according to the messages they are sending through. It's funny how there is time for sending messages but not for writing postcards. Vet Student/Vet Nurse Alex has sent me a postcard but it looks like she will beat it back. At least she cared enough to send me one….
Nurse Hollie has started her maternity leave so we are now eagerly awaiting news of the arrival of my newest niece or nephew. I'll keep you all posted!
And in the most important news, I have again been nominated in the Dermcare Clinic Cat of the Year award! While it's a travesty that I didn't win last year, I am extra confident that the error will be rectified this year. Now, of course you can vote for me. Just head to http://dermcare.com.au/Dermcare-Clinic-Cat-of-the-Year
My star this week is the handsome Pablo, a 1year old Pug cross, who saw Dr Helen Burns after he ate rat bait.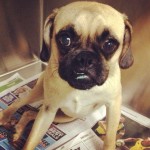 Rat baits not only toxic to rodents, but is also toxic to cats and dogs, causing the same blood clotting issues which in the right quantities and no treatment, can prove to be fatal. Pablo had eaten just shy of the toxic dose of rat bait.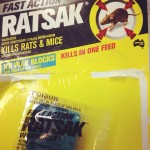 Dr Helen admitted Pablo to induce vomiting to get rid of the undigested bait and to give him activated charcoal which would help to stop the bait from being absorbed into Pablo's system. Pablo vomited up a huge amount of the bait and ate the charcoal like it was a dog treat!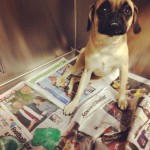 Pablo wagged his tail throughout the whole experience!! Because rat bait can effect how the blood clots, Pablo would need to come back in a few days to check his clotting time and Dr Helen also sent him home with some vitamin K tablets, which would help promote healthy blood clotting. So far all is going well with Pablo which is great. If you are planning on using baits around your property and you have animals, please be sure they can't get to them.
Well, better go and work on my acceptance speech for when I win Clinic Cat of the Year. Meows for now, love Joey xox