Frederik's Feline Brain Surgery
By John Morgan | Dated October 25, 2019
This month we had a very interesting case with one of our favourite patients! Frederik is a lovely 9 year old British Short Hair cat who was a little off before coming to see Dr John. While his signs weren't severe, his loving owner noticed he wasn't himself. Frederik was born with an unusual heart rhythm called a "Gallop Rhythm" which can be linked to heart disease in cats.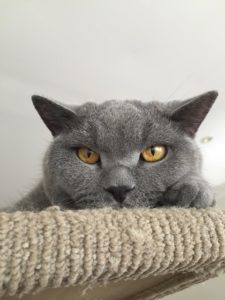 Our first step was to rule out heart disease which can cause a range of different symptoms in cats including some that Frederik was showing. We called in a specialist veterinary Cardiologist – Dr Damon Leeder to perform and echocardiogram which ruled out heart disease. The following day Frederik was very off. He was walking in circles and staring at walls for long periods of time. While he was still interested in food he definitely was not his usual self. At first Dr John suspected he may have had a reaction to some of the sedation medication required for his echocardiogram, however, the signs didn't go away after 8 hours and suspicion was raised for a central nervous system disease.
Frederik was referred to SASH who have a neurology team and an in-house MRI and he was soon diagnosed with a brain tumour – in this case what is called a meningioma. Frederik was booked in for surgery and had this tumour removed shortly after his diagnosis.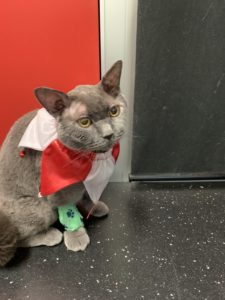 Frederik is doing well at the moment and although he is still showing some very slight personality changes, he is expected to to make a full recovery! While at SASH he made as many friends as he has at Gordon Vets – they loved him!