Gordon Veterinary Hospital is helping to cure Feline Infectious Peritonitis (FIP)
By Sally Coggins | Dated June 1, 2021
FIP is a fatal condition caused by a cat specific coronavirus.  Unlike COVID-19, this type of coronavirus does not cause respiratory symptoms, but instead triggers a body wide inflammatory response, often resulting in fluid accumulation within the abdomen or chest.  Sadly, it targets young cats (most are under 16mths of age) and up until recently, carries a 100% mortality rate.  Since it was first documented in the 1960's, vets have been trying to find a cure without success.
Our feline veterinarian Dr Sally Coggins is heading up this research to form part of her PhD thesis through the Sydney School of Veterinary Science, The University of Sydney.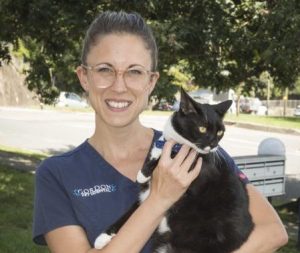 In 2018 and 2019, research papers were published showing high treatment success rates using an experimental antiviral drug in cats with FIP.  Drug companies did not want to pay to go through official drug registration trials and stopped producing the drug when it proved ineffective against Ebola and SARS-COV1 human disease outbreaks (for which it was originally created). Black market versions of these drugs started appearing out of China and desperate cat owners have been illegally sourcing these via facebook networks to save the lives of their dying kittens.  Vets have been prohibited to have anything to do with this, as they would lose their veterinary licences.  However, these cats have been surviving.
The newest version of this drug is an antiviral called remdesivir.  Remdesivir showed promise in the human medical sphere as COVID-19 gripped the world in early 2020.  The Australian government moved fast to register remdesivir with the Therapeutic Goods Administration and stockpiled the drug in human hospitals, in preparation for a nation-wide COVID outbreak.  Due to effective disease control measures implemented by Australia, we have so far managed to avoid the explosion of cases seen in other parts of the world.  Simultaneously, due to the huge numbers of COVID patients world-wide, several large controlled trials were conducted that concluded remdesivir is not helpful in the treatment of COVID and the World Health Organisation no longer recommends its use.
In Australia, where a registered veterinary drug is not available, veterinarians are permitted to write prescriptions for human registered drugs.  As such, we have found ourselves in the unique position in this country where vets can legally prescribe remdesivir for the treatment of FIP in cats.
Preliminary results are very encouraging, with many cats completing treatment and going into remission from their FIP.  Gordon Veterinary Hospital is very excited to be a registered clinic for these clinical trials.