Pet of the week this week is the beautiful Angel
By Helen Burns | Dated June 28, 2017
Now I don't know about you, but I'm seeing a pattern here of Golden Retrievers who are eating things they shouldn't be. This week it's Angel, who has a taste for coffee. Angel's family suspected she may be a little unwell when they noticed that she was lethargic while on a walk, and not long after, she vomited something that smelled suspiciously like coffee.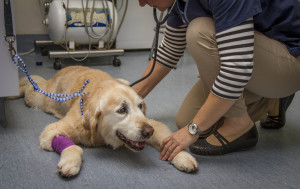 Coffee is Toxic to dogs and can cause elevated blood pressure, tremors and in severe cases, seizures and even death.
Luckily for Angel, her family were on the ball and noticed something was not right, and bought her to Gordon Vet for treatment. After being given something to make her vomit, nurse Hollie gave her some Activated charcoal, which is used to prevent the absorption of toxins.
Angel was sent home later than night for some well-earned rest.