Pet of the Week is Peri, the Persian cat with a lot of love to give!
By Janie Goodyer | Dated October 19, 2017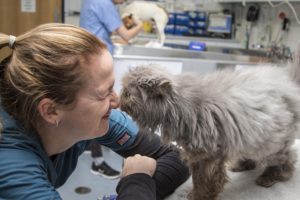 Peri is a 13 year old Persian who is one of our long time patients and also boards with us regularly. She is very well known and loved in the hospital and is even popular with families of the staff! This is because of her unique personality. It would be hard to find a more affectionate cat than Peri. She is always up for cuddles, even climbing onto people's shoulders so she can get in nice and close. One of her signature moves is her ear lick. She often manages to catch unsuspecting cuddle receivers out, and licks them right in the ear!