Pet of the week is Calvin, the little ginger kitten with a heart as big as a lion.
By Janie Goodyer | Dated January 31, 2018
One searing summer day, Gordon Vet received a call from an employee of one of the office buildings in the area saying that there was a kitten stuck in a very narrow space between the outside of a building and a wall. The gentleman who called was understandably distressed and very concerned about the kitten, and so were we! So Nurse Danni and Laura were off right away to save the day.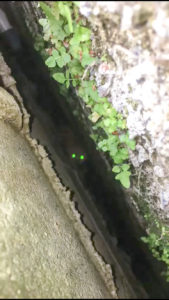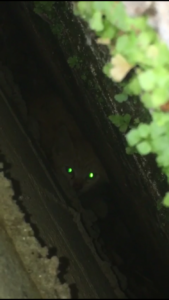 When the Nurses arrived at the building, they were able to spot the little kitten almost right away. He looked scared and quite dirty, but appeared to be in good health. It was a slow rescue, as the little kitten was scared and had been all alone for who knows how long. He was too scared to let the girls close and retreated further into the gap every time they tried to coax him out. Laura eventually had to place the handle of a broom behind him to prevent him retreating any further and to slowly nudge him towards an area where Danni was able to get her hand around him and gently lift him out.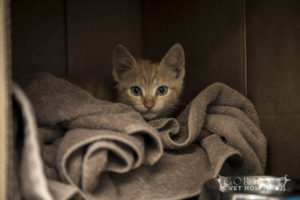 Once he was safely out of the gap and inside a pet-pack, the girls brought him back up to Gordon Vet so that he could be checked over. He was given a bath, vaccination, flea and tick prevention and a worming tablet, a clean bill of health.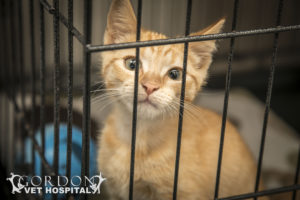 3 weeks later and Calvin is doing very well and gaining plenty of confidence after being looked after by Nurse Britt and Vanessa. He is playful, fluffy and most importantly, available for adoption!
If you or someone you know might be interested in giving little Calvin a loving forever home, please call us on 9498 3000.