Our Pet of the Week this week is Sarah, the very courageous Cat
By John Morgan | Dated June 13, 2017
Please be advised that at the end of this article, there is an image of surgery being performed than may disturb some readers.
Sarah, who some of you might remember as being Joey's wife, has been getting into a little bit of mischief lately. She was bought into Gordon Vet with loss of appetite and a very sore hind leg. Sarah was checked over by Dr. Sam and given some pain relief and anti-inflammatory medication. She then stayed in hospital overnight for observations.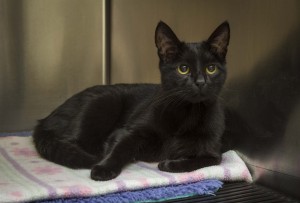 While Sarah had eaten a small amount overnight, she was still very sore in her hind leg the following morning. X-rays were taken, and she was quickly diagnosed with a ruptured cruciate ligament inside her left knee. This is similar to when people are diagnosed with anterior cruciate ligament (or ACL) rupture.
At Gordon Vet, we more typically see dogs with ruptured cruciate ligaments, however, it is not uncommon for cats to get the same injury. The condition is very painful and leads to irreversible arthritis, so Sarah underwent surgery with Dr. John the very next day. During the surgery, the ligament is replaced with an artificial one outside the joint. This artificial ligament supports the knee so that it can function as normally as possible until the body creates new tissue outside the joint to reduce the instability that occurs as a result of the ligament rupture.
Sarah will need to undergo some physio sessions and ice compression during her recovery and will slowly be able to start using her leg again as the pain and inflammation reduce. We have our fingers and paws crossed for a speedy recovery form the surgery, and have every confidence that Sarah will be up and about and back to her old habits in no time.