Joey's Pet of the Week – Essex's Close Call
By admin | Dated 三月 18, 2016
Hey gang! How are you? Hasn't the cooler weather been better! Still warm enough to enjoy some outside time but not so hot that you melt.
How adorable is the cute little bunny we have in?!? You all know how much I love bunnies. And she is just so little and cute. She needs a fantastic new fur-ever home. I'm hoping her new family will be open for an open adoption. Just so I get regular updates on how she's going.
My star this week is the gorgeous Miss Essex, a 10year old British Shorthair from West Pymble. Essex came in to see Dr John Morgan when she had been off her food. essex had been in for her routine vaccination a few months back and was as healthy as a horse. Dr John admitted Essex for blood tests and further investigation after his initial exam revealed that her gums were pale, a sign of anaemia. Essex wasn't too happy about having to have her blood taken, I don't blame her, I hate it too! Essex's blood results revealed she was indeed anaemic, markedly so. Dr John started Essex on IV fluids. Why was Essex anaemic? Dr John organised for Dr David Loneragan to perform an ultrasound to rule out things like tumours, but it was also possible that the vaccination Essex had a few months back was the reason.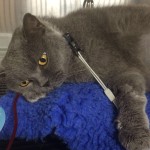 Now, before you think we have turned into anti-vaxers, that is definitely not the case! Vaccinations are safe. I have one every year and I am fine. In some animals, however, and this happens very rarely, they can have a reaction, like Essex. Essex has Autoimmune Haemolytic Anaemia. What this means is that Essex's immune system sees her red blood cells as a foreign body and attacks them. Vaccinations stimulate the immune system to work a little harder, and this can on occasions lead to AIHA. Like with Essex.
Dr David performed an ultrasound and also some X-rays and the good news was there were no nasty masses found. Essex was started on a high dose of cortisone which helps to get her blood clotting properly. Essex was also given an appetite stimulant as she still wasn't eating. She was still quite miserable and her repeat blood tests the following day were no better. Essex was critically sick and needed a blood transfusion.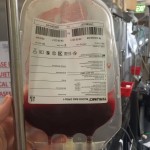 After getting her blood type, it's very important that cats receive a transfusion from the same blood type, Dr Helen Burns' cat Obi offered to donate for Essex. He did have some reservations about donating when he realised there were needles involved, but Dr Helen convinced him to go through with it!
The transfusion was just what Essex needed. It improved her appetite, she was brighter and best of all her blood test results were improving! She had improved so much she was able to go home the day after the transfusion!! Obi had really saved the day!! We will be seeing a bit of Essex for a while to repeat her blood tests and make sure everything is progressing nicely, but so far so good!!
With Easter just around the corner, I've been asked to let you know what our opening hours will be. So here they are:
Good Friday 10am – 12pm
Easter Saturday 7:30am – 5pm
Easter Sunday 10am – 12pm
Easter Monday 10am – 2pm
For those of you who have cats boarding with us over Easter, please remember that you can't drop off or pick up your cat on the Public Holidays.
Stay tuned for my Easter hazards blog next week. meows for now, love Joey xox