Frank's plastic surgery
By Helen Burns | Dated March 26, 2018
Frank the ragdoll is quite the character, and has lived life to the full! Poor Frank seems to be unlucky in the health stakes and we need to see him quite regularly. And as much as we always love seeing him, we're not sure that he feels the same way about us! Once a year for vaccination would suit him quite nicely.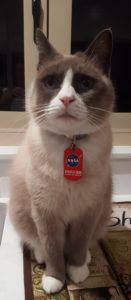 Last week Frank had an operation to remove a cancerous lump on his skin, and as is the way with Frank, it was a tumour  rarely seen in cats. To make matters a little more complicated, the mass was on the back of his foot, where there is no spare or stretchy skin. We weren't sure if we would be able to save his leg, but were going to give it our best shot! So, his poor family dropped him off on the day of surgery,  waiting anxiously for the news about his leg.
Our first priority was to remove the tumour, including a margin of tissue around it.  That was the easy part.  The more challenging part of the operation was to close the wound.  It is at moments like this when vets are grateful for the cap, mask and gloves that we don, which quite nicely hide all the  furrowed brows, bitten lips and sweaty palms  as we do our best to get a tricky wound closed.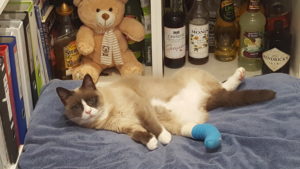 Fortunately, we managed to close the wound  by flapping some skin from his thigh down to his foot, followed by a big bandage to keep the skin still, to allow it to heal. Young Frankie has been a superstar during his recovery, living without too much protest in his family's pantry, resting and recuperating in a very gentlemanly manner. He even brings us a letter each time he visits, so we know everything that he has been up to.
The great news is that his skin has now healed and it won't be long until Frank can get back to living life to the fullest again.