August is Pet Dental Care Month
By Helen Burns | Dated July 31, 2019
Smile! Gordon Vet's got it covered
Throughout the month of August, Gordon Vet Hospital will be joining the Australian Veterinary Association's initiative, promoting Pet Dental Health Month.
Four out of five dogs and cats over the age of three years have some sort of dental disease which may go unnoticed by their owners. That's right, 80% of dogs and cats have dental disease! This isn't really surprising, because we all know that at home it can be difficult to examine your pet's teeth, especially the big molars at the back. Let alone keep them clean and healthy. Now we're not fussing about having the perfect smile. Our aim is to keep your pet in great health, and having a clean healthy mouth is an important part of that.
Dogs and cats can be stoic creatures, and often won't show pain. Even pets with sore gums, an infected mouth and broken teeth will continue to eat. Their survival instinct is extremely strong.
So how can you tell if your dog or cat has dental disease?
A good clue is your pet's breath, which should not smell unpleasant. Bad breath is a sign of bacterial infection, usually indicating gingivitis with red, inflamed gums and teeth stained with tartar. Sometimes pets will rub their face, drop food or shy away from eating hard food. Not only is it important to keep your pet's mouth free from pain, we also need to ensure that the bacteria from dental infections do not spread to their heart, liver and kidneys through the blood stream.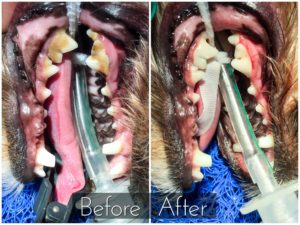 Every year when your pet comes in to see us for their annual health check and vaccination, we examine their teeth and gums to assess their health. Now that equates to visiting the dentist once every seven years, so it's not really surprising that we often note dental disease.
At Gordon Vet, for Pet Dental Health Month we are offering free dental health checks in August. So, don't leave your pet's teeth unchecked, phone to make an appointment for one of our vets to give them a free dental check up.