Three was a crowd!
By Helen Burns | Dated July 18, 2019
They say bad things come in threes, and no doubt Monty, Yuki and Isabella would agree.
On the same Thursday a few weeks ago, all three well-loved fur babies required an exploratory laparotomy – this is a surgery where the abdomen is opened and investigated for certain diseases – especially vomiting.
First up that morning was Monty, the gorgeous 10 year old Maine Coon cat. We initially suspected pancreatitis was the cause of his vomiting, however once we sedated him for abdominal radiographs, he vomited profusely, and we quickly realized that we had to have a look inside. Vomiting while sedated or anaesthetised is a large risk factor for a very serious form of pneumonia called aspiration pneumonia, caused by vomited material travelling down to the lungs. This is the main reason that patients having elective surgery are fasted before their anaesthetic. Fortunately, all went extremely well for Monty. He had several foreign bodies, including one in his small intestine which was causing the blockage, and which was removed via a small incision. The other two foreign bodies had reached his large intestine, and we were able to push them along without having to incise the intestine again. Two days later, after lots of medication and TLC, Monty was discharged on a special diet to try to manage inflammatory bowel disease which was likely the underlying cause of his problem.
While we were finishing Monty's surgery, in came little Yuki, a tiny and very sweet 1 year old white cat. She too had been vomiting, and both on abdominal palpation and x-rays we were able to identify a foreign body sitting in her intestines. During surgery we removed quite a large piece of a rubber mat from her duodenum, which had unfortunately done some damage to it. The damaged intestine had a little 'band aid' stitched over the damaged part to hopefully protect it while it healed. Whilst we were worried about how well her damaged intestine would recover, little Yuki gave us no cause for concern and was rolling around wanting a cuddle shortly after waking from her anaesthetic.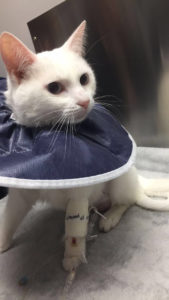 Feeling like Groundhog Day, while we were finishing the stitching with Yuki, Isabella the lovely 2 year old West Highland White terrier came out of her ultrasound, with yet another intestinal foreign body showing up. Fortunately she gave us no cause for concern, and in a fairly routine ex lap, the material was removed, her intestines stitched up and she spent the next couple of days recovering in hospital on a drip.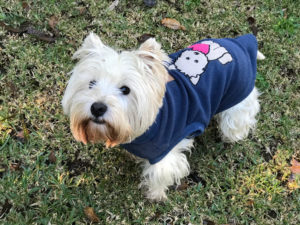 Whilst we are so pleased that that this terrific trio all had lovely recoveries, and that we were able to fix them all, we do hope not to have to do 3 exploratory laparotomies in the one afternoon again!