Dog & Cat Boarding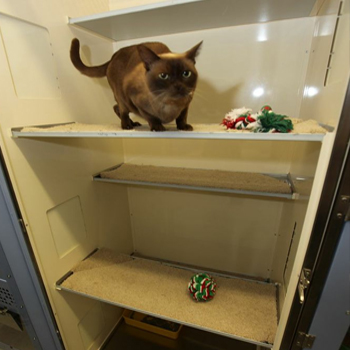 Comfortable, air-conditioned accommodation is available for cats and small dogs. We have luxurious new cat boarding accommodation complete with a play area.
We also regularly board animals requiring medication or diabetic animals needing insulin. Our boarding service is particularly useful for geriatric animals that need to be closely monitored for any problems while their owners are away.
Our dedicated ward nurses are specifically assigned to look after the dogs & cats in our boarding facilities and if there is the slightest concern, the vet is contacted immediately.
Dogs are walked to a grassy patch to go the toilet twice a day. Special meal requirements can usually be catered for or your pet's favorite meals left with us.
The dog quarters are completely separate from the cat quarters and there is a double sound-proof door separating the two areas to minimize stress.
There are nurses and vets walking through the boarding areas all day so your pet will never feel alone.
Advanced bookings are recommended, especially for the school holiday periods. Deposits are usually taken for the busy Christmas and Easter periods.